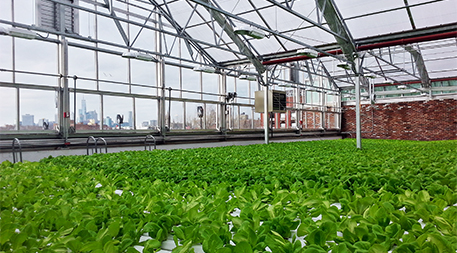 Pea shoots that have traveled 3 miles (4.8 kilometers) to grace a salad are bound to taste better and be more nutritious, she says, than those that have traveled half a continent or farther. "One local restaurant that I sell to used to buy its sprouts from Norway," Leadley says. Fresher food also lasts longer on shelves and in refrigerators, reducing waste.
Food that's grown and consumed in cities has other advantages: During times of abundance, it may cost less than supermarket fare that's come long distances, and during times of emergency — when transportation and distribution channels break down — it can fill a vegetable void. Following large storms such as Hurricane Sandy and the blizzards of this past winter, says Viraj Puri, cofounder of New York City–based
Gotham Greens
(which produces more than 300 tons (270 metric tons) of herbs and microgreens per year in two rooftop hydroponic operations and has another farm planned for Chicago), "our produce was the only produce on the shelf at many supermarkets across the city."
Despite their relatively small size, urban farms grow a surprising amount of food, with yields that often surpass those of their rural cousins. This is possible for a couple reasons. First, city farms don't experience heavy insect pressure, and they don't have to deal with hungry deer or groundhogs. Second, city farmers can walk their plots in minutes, rather than hours, addressing problems as they arise and harvesting produce at its peak. They can also plant more densely because they hand cultivate, nourish their soil more frequently and micromanage applications of water and fertilizer.
Urban farming is booming, but what does it really yield?
(Ensia)